We've partnered up with CoppaFeel! on our Limited Edition Pink Tummy Rub Butter to support Breast Cancer Awareness Month!
The limited edition you didn't know you needed is here…PINK Tummy Rub Butter! That's right, this October, we're supporting breast cancer awareness month by turning our iconic stretch mark protection cream pink and donating 20% of the sale price for Pink Tummy Rub Butter to the breast cancer awareness charity, Coppafeel! We'll also be taking over our socials with information and stories from the charity for the whole month of October. 
At Mama Mio, we value our Mamahood's health and safety above anything else, which is why our Pink Tummy Rub Butter has been created to help raise funds to support the fight against breast cancer – a disease that 1 in 8 women are diagnosed with in their lifetime* and is reported in 1 in every 3000 pregnancies in the UK**. 
It is certainly a cause close to our heart; and who better to team up with than our charity partner CoppaFeel! 
Born in 2009, CoppaFeel! was founded by twin sisters Kristin and Maren Hallenga following Kristin finding a lump at 22 and eventually receiving a diagnosis for secondary breast cancer at just 23. Kristin realised that she didn't know much about the disease due to the lack of information made available to young women, so she decided to launch CoppaFeel! with the aim to share her story and promote breast cancer awareness. 
Today, CoppaFeel! is one of the biggest breast cancer awareness charities in the UK committed to educating young people and encouraging them to check their boobs and chest area regularly, as catching signs and symptoms early on can save your life! They recommend checking your breasts for anything that feels unusual at a similar time every month. They even offer a service whereby you can sign up for monthly texts reminding you to check! Sign up to the text reminder, here! 
How Are Mama Mio Supporting?
Not only are we donating 20% of the sale price of every Pink Tummy Rub Butter sold to the charity, we are helping to spread the message with our Breast Cancer Awareness campaign. Keep an eye on our social media for related content throughout the month of October as we cover everything from boobs, to bumps and beyond! 
Most importantly – be sure to check out our 'how to' video, taking you through a step-by-step guide to checking your breasts regularly.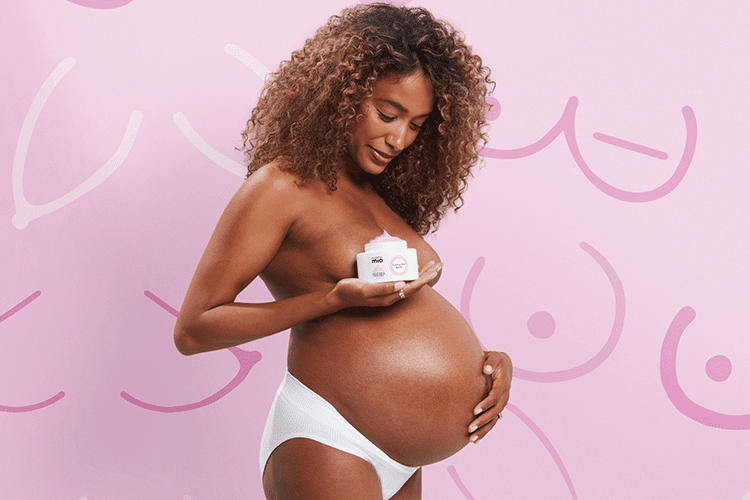 We caught up with CoppaFeel! on what our partnership means to them.  
"We're so grateful to Mama Mio for raising vital funds and awareness for CoppaFeel! this Breast Cancer Awareness Month. CoppaFeel! exists to educate and remind every young person in the UK that checking their boobs isn't only fun, it could save their life.

Our mission is to help everyone stand the best possible chance of surviving breast cancer by educating you on the importance of getting to know your boobs, pecs and chest, and empowering you to seek advice from a doctor if you notice something that isn't normal for you. We couldn't do the work we do without our Brand Breasties, so thank you to Mama Mio for spreading the word amongst your wonderful community of Mamas; you're the breast!" 
The feeling's mutual, CoppaFeel! 
How Did We Make It Pink?
To turn our iconic Tummy Rub Butter pink, we used a natural ingredient with pink colouration properties – BLUSH Oléoactif®. BLUSH Oléoactif® is a 100% natural ingredient derived from the leaves of Persicaria tinctoria, an indigo-plant sourced from European organic fields.  
Treading gently on the planet, to protect future generations is vital for us, therefore we used environmentally-safe technology to dry, grind and extract the leaves of the plant to reveal a beautiful natural formulation that is, you guessed it – pink!  
We are so happy with the results and I'm sure you can agree it's one of our most gorgeous formulations yet. We hope you love it just as much as we do! 
We know you love the original Tummy Rub Butter scent, mama, so we've kept the same iconic, 100% natural, feel-good fragrance: a citrus blend of Orange Oil, Bergamot, Mandarin, May Chang and Lime.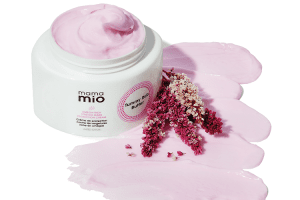 With the same iconic formula as all of our Tummy Rub Butters, Pink Tummy Rub Butter has been expertly crafted by our team of dermatologists to leave your skin feeling strong, supple and protected from first trimester and beyond!  
It's still charged with our unique Omega-rich Skin Stretch Complex: a unique blend of Avocado Oil, Inchi Oil and Argan Oil rich in Omega 3, 6 and 9. It is clinically proven* to not only deeply moisturise, but help keep your growing bump hydrated, elastic and strong throughout the nine-month str-e-tch and beyond!
98% of mamas agreed skin felt supple and more elastic and would recommend to their fellow mamas!**
Our pregnancy-safe products are bursting with Omegas 3, 6 and 9 to keep skin super healthy, supple and elastic. This means when skin is stretching, it's stretching at its strongest rather than its weakest. The continual and plentiful use of omegas in our Omega Stretch Complex will help keep skin healthy, help prevent stretch marks and combat that uncomfortable skin feeling mamas often find they have during pregnancy.  
Like all Mama Mio products, Pink Tummy Rub Butter contains a blend of vegan, cruelty-free and pregnancy safe ingredients including Coconut Oil to naturally aid skin elasticity, Sweet Almond oil to soothe mama's growing delicate skin, Shea Butter to lock-in moisture and Vitamin E to protect the skins natural barrier.  
* Based on an 2-week independent clinical trial of 20 women 
**Tested on 30 pregnant and 30 non-pregnant women with stretch marks, in a 2-week independent consumer trial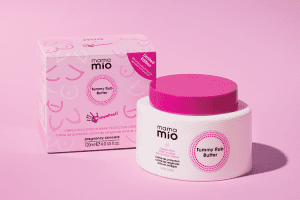 Your Pink Tummy Rub Butter Routine
Your new Pink Tummy Rub Butter is the perfect addition to your bumpcare routine. Start by applying Tummy Rub Scrub to your bump, gently exfoliating away any dead skin cells for a smooth and supple base. Next, cleanse your bump with Megamama Shower Milk, our refreshing wash to clean and nourish stretching skin. Finally, apply Pink Tummy Rub Butter in the morning and evening, massaging from below your boobs to your bump and all the way around. 
Where To Shop
Now you know all the details, we know you're thinking: "how can I get my hands on the Pink Tummy Rub Butter?". Lucky for you mama, you can shop your new pregnancy skincare essential and help support CoppaFeel! here, or at selected Boots stores! Be quick though mama, Pink Tummy Rub Butter is here for a limited time only, whilst stocks last! Let's support breast cancer awareness together!  
Wondering how to improve your skins elasticity, whilst pregnant? Check out our guide, here!