Say hello to Mini Mio, our NEW arrival for mini moments that matter most! We know these moments are precious, and we want to help you enjoy them with our naturally powered, vegan, cruelty-free and paediatrician-approved baby skincare made for minis and the people who care for them.
Made from premium ingredients derived from Mother Nature and our NEW Skin Nurturing Omega Complex, you can trust our baby skincare products to nourish, soothe, calm and protect even the most sensitive baby skin. Whether its connecting at changing time or building bonds at bedtime, discover more about the products in the range and how they can help enhance those Mini moments together, full of care…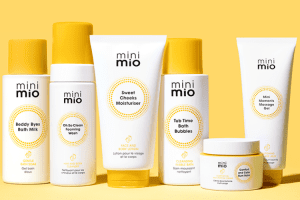 Why Is Babies Skin So Sensitive?
Before we delve into our exciting new products within the range, let's explain a bit about your baby's skin and why it's so important to use baby specific skin care to help keep it soothed and comforted.
A healthy skin barrier is vital for a baby's wellbeing, as it is the first line of defence against irritants and helps to protect the body against infection and disease. When a baby is born, their immune system is still developing and they are at greater risk of developing irritations and infections; a breakdown in your baby's skin barrier can lead to painful, cracked and inflamed skin.
Our skin barrier is protected by our lipids and microbiome. As infants grow, they're still developing the protective lipid and moisture balance within their skin as it continues to mature and develop throughout the first years of their life. Baby skin is thinner and more permeable than adult skin, therefore it is prone to becoming dry and dehydrated. Their thinner, delicate skin will benefit from using the right baby skincare products to help keep it nourished and calm for a joyful and happy baby. That's why we've created Mini Mio Skincare.
NOTE: Midwives recommend using only water on baby's skin for the first 3 months of their life, as this is when it is most sensitive. After that, you can help keep their skin nourished and soothed with our gentle baby skincare products.
Mini Mio is recommended for use on babies from 3 months onwards.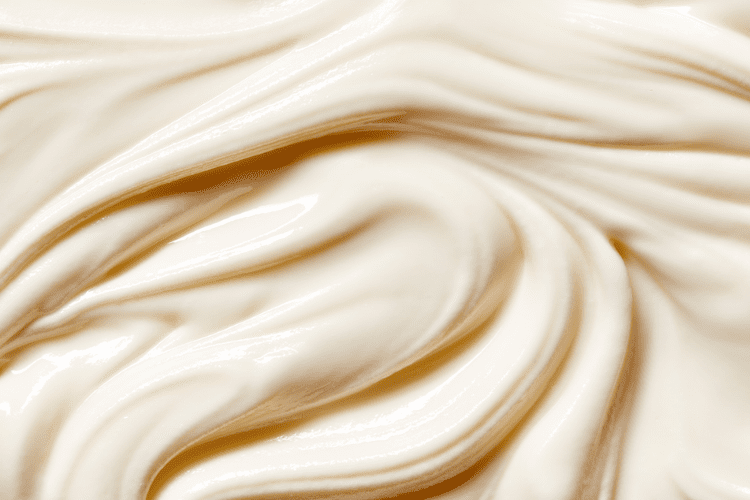 From Bump Care, To Baby Skincare
For over 17-years Mama Mio has nourished, supported, and protected Mama-to-be skin throughout the 9-month str-e-tch and beyond to give you pregnancy-safe support for strong, healthy skin. Now, we have extended this love and care to your little ones. Mini Mio provides naturally powered baby skincare that brings parents and little ones together for moments of bonding. From tub time to 'it's time for a change', we've designed each product to help you connect with your baby, caring for each and every mini moment in the day.
Charged with plant-based ingredients and nourishing oils in our unique Skin Nurturing Omega Complex, Mini Mio is vegan, cruelty-free, Paediatrician-approved and safe for babies, so you can trust our products to nourish, soothe and protect even the most sensitive baby skin to help enhance those mini moments together.
Treading gently on the planet to help protect future generations, Mini Mio uses the best quality ingredients and sources our packaging and materials sustainably and responsibly. Our packaging is 100% recyclable, jar and cap in your plastic bin and carton in your paper!
Now that you know the story behind the brand, let's get into the good stuff and onto the products!
Sweet Cheeks Face And Body Lotion
Keep baby's skin soft and smooth from top to tiny toe with our NEW Sweet Cheeks Face And Body Lotion. Expertly formulated by dermatologists, this gentle baby moisturiser will help protect Baba's delicate skin from dryness, leaving it feeling super soft, calm and moisturised. Charged with our Skin Nurturing Omega Complex, a nourishing blend of Shea Oil, Avocado Oil and Coconut Oils rich in Omegas to help keep baby's skin feeling hydrated and moisturised. Packed full of plant-based actives including antioxidant rich Vitamin E, Cotton Seed Oil and a 100% natural calming fragrance of vanilla, orange and florals, this nourishing baby body lotion will help keep little one's feeling comfy in their own skin, leaving it feeling silky smooth and softly scented.
How to use: Smooth a thin layer over your baby's face and body after bathing or before you go out and about.
98% agreed product left baby's skin was left looking and feeling soft and protected from dryness.*
*Tested in a 2-week independent consumer trial