One year on from the launch of our partnership with rePurpose Global, and this World Earth Day we're looking back at the phenomenal work by our impact project, thanks to the support of you, our wonderful Mamas! Because of your support, we are a plastic neutral certified brand and help support rePurpose Global with their overall recovery of 14 million pounds of plastic waste every year. Your contribution is helping to change lives and protect the planet for future generations, thank you, Mama!
Keep reading to discover more about rePurpose Global, our female-led impact project in Aurangabad, India and how you can help make more positive changes to the environment and people's lives this World Earth Day…
What Is rePurpose Global?
Dedicated to removing harmful, plastic waste from the environment, rePurpose Global was founded to help people and companies reduce waste, revive lives and restore nature's balance.
Did you know Mama, 75% off the land area on Earth is degraded?
10 million tons of plastic are dumped into our oceans every year?
Not only is plastic waste damaging our environment, it's also damaging our people! Some 3.2 billion people worldwide are negatively affected by contaminated land and according to the charity Tearfund, it's estimated that between 400,000 and 1 million people are dying as a result of mismanaged waste. As this plastic waste ends up in our oceans, it's inevitably ingested by fish, that in turn end up being consumed by us. this means that we ingest approximately 5 grams of microplastics every week, that's the equivalent of a credit card's worth!
I know this might sound overwhelming, Mama. We worry about our children every step of the way and thinking about their future on our planet can only add to the fear! But, not all is doom and gloom, amazing companies like rePurpose Global are here to help calm those nerves, and you can help too. Is there a better day to start making a change than World Earth Day?
How Can rePurpose's Impact Project's Help?
They activate additional sources of income
Create jobs in safe working conditions
Encourage a circular aspect to plastic waste
Prevent accumulation of low-value plastics
Reduce greenhouse gas emissions
Preserve biodiversity by keeping waterways clean
Our rePurpose Impact Project generates hundreds of hours of paid work, benefiting 57 families every month. Not only is it an advantage for the economy and environment, Mama; workers receive health check-ups for themselves and their families as well as sanitation stations to help improve health and hygiene in developing areas.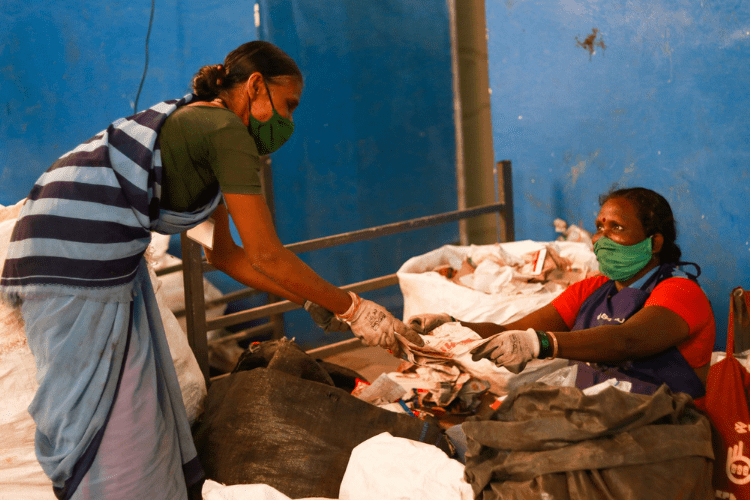 Our Impact Project: Project Anant Pranay
In Hindi, Anant Pranay (अनंत प्रणय) means endless love; the kind of love we're more than familiar with in the Mamahood. Based in Aurangabad, India, an all-female crew of 27 work to collect and ethically process low-value, soft plastic, packaging waste (MLP) that would have otherwise been dumped in overflowing and hazardous landfills.
The team of dedicated workers, collect, segregate, clean and transport the plastic to cement kilns where they are co-processed. Following the collection of MLP, waste workers segregate, clean, and transport the plastic to cement kilns for co-processing. As this type of plastic cannot be recycled, the best environmental option as prescribed by the United Nations Basel Convention is co-processing. Energy is recovered from the plastic and the remaining waste is ethically disposed of without harmful emissions.
As of November 2021, Project Anant Pranay recovered 255, 442 kgs of plastic waste. That's the same as 127 million plastic bags and 14.1 million plastic bottles, Mama! As well as 27 wonderful waste workers receiving additional financial capital every year to support themselves and their families.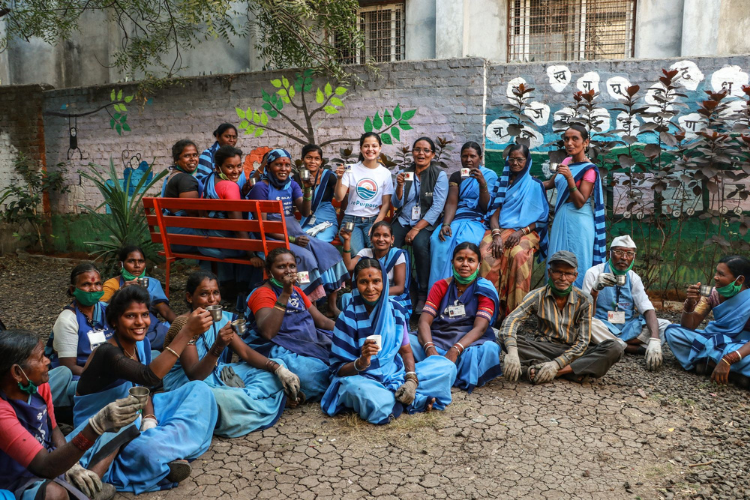 How Can You Help?
So, how can we keep preserving the planet and help these families? The answer is simple, for every Mama Mio product you purchase, an equal amount is removed from the environment and you're helping to support this amazing cause. So thank you, Mama! We couldn't do it without you.
Start Helping Today