How are you settling in, mama? There's a lot to adapt to in these early stages and hopefully by now you've come to terms with all of the nappy changing. With over ten changes a day, it'll soon come as second nature! However, if you spot areas of dryness or irritation, fear not. There's no need to second guess your changing technique. Whether you've gone for the standard disposables or cotton, the friction of a nappy rubbing against your baby's bottom can show on their dainty skin. At this point, you may be wondering what can keep their skin silky smooth, soft and nourished from top-to-tiny-toe. This is when to use nappy cream.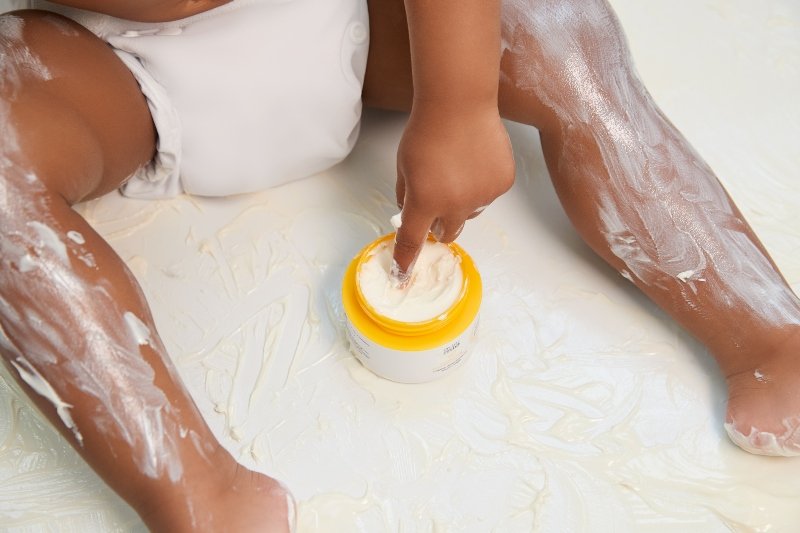 What is nappy cream?
Let's begin by answering the question, what actually is nappy cream?
Well, sitting in a nappy can cause irritation on your little one's bottom, no matter how often you change them. First of all, don't panic, this is an extremely common problem. Normally when we experience irritation from friction, we'd reach for a talcum powder. However, according to the NHS, you shouldn't use talcum powder as it contains ingredients that could irritate your baby's skin.
Enter: nappy cream, an ointment that acts as a barrier to block your baby's delicate skin from the nappy and its contents. If you can already see some irritation forming, nappy barrier cream will help to protect their soft skin from dampness and friction that might cause more damage.