You're simply glowing, Mama! It's well known that carrying baby can do wonders for the skin. However, the reason behind that glistening complexion may double as one of the less desirable aspects of going from bump to baby. That's right, we're talking about sweating during pregnancy. An increase in perspiration sprinkled on top of the extra weight, swelling and discomfort is something that absolutely nobody asked for. However, it's all part of the journey, Mama!
But just how much sweating is considered normal? And will it ever end? Here's all you need to know about sweating during pregnancy.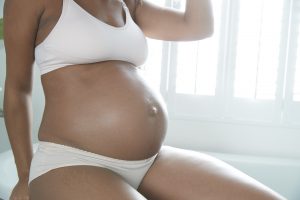 Is sweating a lot during pregnancy normal?
First things first, let's clarify that sweating during pregnancy is perfectly normal. What's more, sweating a lot during pregnancy is just as common.
Sweating is your body's way to naturally help keep you cool, Mama! During pregnancy, your body temperatures increase for a multitude of reasons. One being, of course, that you're carrying around a mini-you in your belly. This extra weight along with hormonal changes and increased blood volume all contribute to those hot flushes and sweatiness!
Sweating a lot during pregnancy is certainly a bit of a nuisance. However, it's actually very important for both you and baby, Mama. Sweating cools you down and will stop you from overheating, which can be dangerous for you both.
When sweating a lot during pregnancy, you can try the loose clothing and hand-held fans but it's best to get yourself a high-quality deodorant too, Mama. You may be extra cautious about what you're putting in and on your body but fear not. We've created an aluminium-free, pregnancy-safe deodorant for you!