When you're pregnant, your body
is e
xperienc
ing
 many changes to prepare for your little 
one's
arrival
 and 
you may start experiencing symptoms of pregnancy acne. 
During the first and second trimesters in particular, around 50% of women are likely to encounter acne during pregnancy. Despite how frustrating it can be, It's simply your body's reaction to preparing to welcome your little one (
or
 little ones
?
)
 and is completely normal, mama!
If you're suffering from pregnancy acne, read on discover what it is, what causes it and our top tips on how to treat it for smooth, soft and clear skin…
What Is Pregnancy Acne?
Acne during pregnancy is a skin breakout triggered by an increase in hormones called androgens. It causes oily skin, spots and blemishes to appear anywhere on the body and they can sometimes be inflamed and painful to touch.  
What Causes Acne During Pregnancy?
You guessed it mama, it is related to your everchanging pregnancy hormones. As your hormones shift, it can cause your skin to produce more sebum which can clog pores; creating a build-up of bacteria and cause breakouts. If you have a history of acne flare-ups during your menstrual cycle, then it is likely that you will develop acne during some stage of your pregnancy. If you don't experience acne during your first trimester then there's good news for you mama, as chances are that you won't have any sudden breakouts surprising you during your second or third trimester.  
Although it can be an inconvenience, acne during pregnancy is your body's way of letting you know that everything is working well and it is all part of the preparation for a new life. When you look at it like that mama, it's quite magnificent!  
Does Pregnancy Acne Go Away?
For some pregnant mamas, acne can last throughout your entire pregnancy. Although it is most common during the first and second trimester, it can occur any time during your pregnancy journey and may come and go throughout your second and third trimester. 
The good news, mama? Although there is no definitive answer for when your acne will clear-up, you'll be thrilled to hear that your acne during pregnancy will usually disappear once your little one (little ones?) are born and your hormones return to normal if your acne didn't exist prior to your pregnancy. It is particularly common to notice acne outbreaks during the first few weeks of pregnancy as this is when your hormones start to kick-in at full force! 
How To Deal With Acne During Pregnancy?
Now that you know what acne during pregnancy is and what causes it, read on to discover our top tips on how to deal with it and keep your skin feeling soothed, supported and comforted during your 9-month stre-e-tch.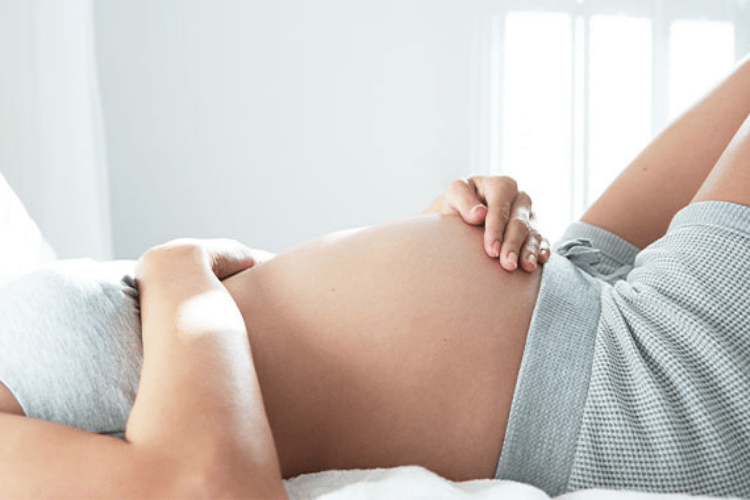 1. Resist
The Temptation To Pick
The little one is the only thing you should be popping anytime soon! As tempting as we know it is, avoid popping, squeezing or picking your spots. We know it's difficult to resist, but doing so could lead to scarring and cause further damage.
2.
Clean Sheets
Washing your bed sheets is key to helping prevent unwanted acne breakouts and ensuring that your peaceful night's sleep doesn't wreak havoc on your skin! In fact, according to skincare experts you should be washing your sheets at least once a week to prevent any bacteria, dirt and oil from building up and aggravating acne even further.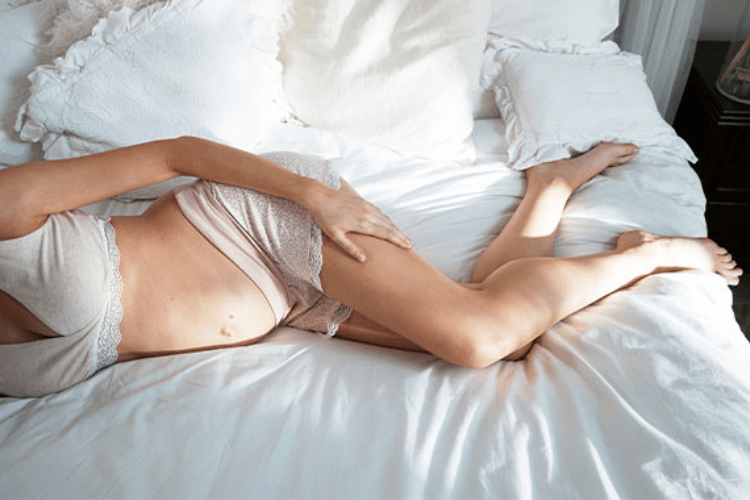 3.
Don't Touch 
Hands on the bump is a yes! Hands on the face or blemish-stricken areas… not so much mama. Our hands carry lots of bacteria, so reducing the number of times your hands come into contact with your face will help decrease chances of breakouts.  
4. 
Avoid Over Cleansing
Over-washing your skin can strip it of its natural oils; causing your skin to dry out even further, leading to more breakouts (no thank you). To treat acne during pregnancy on your body, use our mio Clay Away Detoxifying Body Cleanser. This super-clever 2-in-1 refreshing body cleanser can be used as a pregnancy acne treatment as it also doubles up as a mask that can be applied all over your body. It contains a trio of purifying clays including Green Clay, Cornish and Montmorillonite to help deeply cleanse and purify your skin. Simply smooth over targeted areas of your body before jumping in the bath or the shower, indulging in the 100% natural feel-good fragrance for the ultimate at-home spa experience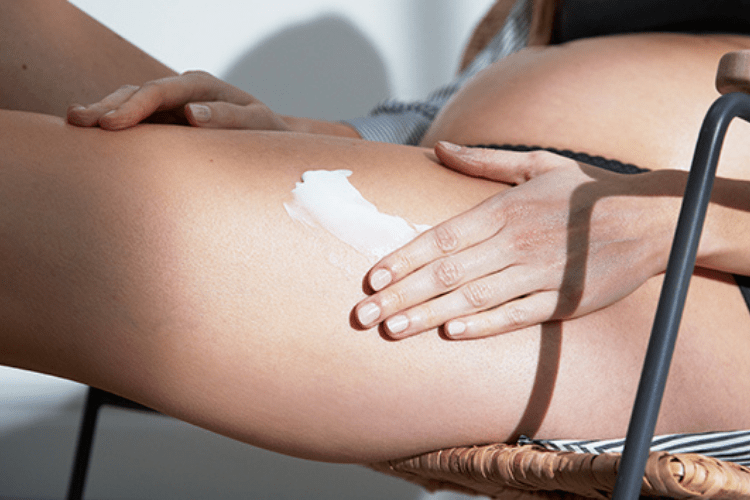 5.
Moisturise
 Acne During Pregnancy
Contrary to popular belief, you should still be moisturising and using skincare for pregnancy acne to help treat the blemishes. When your skin becomes dry, your body makes more oil which can clog your pores and lead to more breakouts. Our Megamama Body Lotion is not only expertly formulated to refresh and revive dry skin, it is packed full of omegas and natural plant-based actives to deliver results mama's can both see and feel. Supercharged with ultra-hydrating Hyaluronic Acid and a unique AHA blend, this lightweight lotion encourages surface skin cell renewal helping to reveal brighter, plump and smoother skin on your body.