You're on the way, mama! At this point, you may be starting to feel some discomforts that come with carrying a little one in your belly. You can confirm that morning sickness is real and as your bump grows, you may notice your skin beginning to change. Your hormones are to thank for this. As they fluctuate, your body can feel as though it's gasping for hydration while somehow managing to be over-oily. Plus, those areas around the bump can get tight as they stretch to make room for your growing baby. Want to know what the best thing is for stretch marks and soothing your body? Enter: Mama Mio's Tummy Rub formulas, but which one?
Keep reading to discover the one for you: the Mama Mio Tummy Rub Oil VS Butter.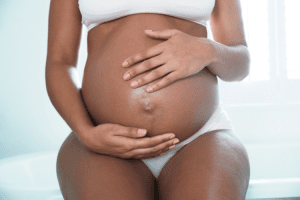 What does the Mama Mio Tummy Rub Oil do?
Mama Mio's Tummy Rub Oil is a lightweight silky blend of natural oils designed to instantly zap moisture back into your skin. According to Johns Hopkins Medicine, there is a hormone made that only you, a mama to be, can make. It's called the human chorionic gonadotropin hormone. This, along with the bursts of oestrogen and progesterone can affect your skin's oil production. Not to worry, Mama Mio's carefully formulated body oil can help with this!