How are you feeling, mama? No matter where you are in your journey, there are some changes you'll experience while your little one is en route. Aside from the rapidly expanding tummy, are your cheeks rosier than usual? Does your hair fall down into a thick, enviable mane? These are some of the perks that come with an influx of hormones! On the other hand, you may find yourself feeling a little emotional these days. All of a sudden, a stack of dirty dishes has the potential to set off the water-works. This sensitivity doesn't stop with your feelings. Your skin might also be extra-tender during these nine months. How can you have a scrub in the shower when the harsh scrape of a loofah sends a shiver up your spine? Enter: konjac sponges.
What are konjac sponges and what do they do? We feel your curiosity, mama. Keep reading for all of your konjac sponge questions, answered.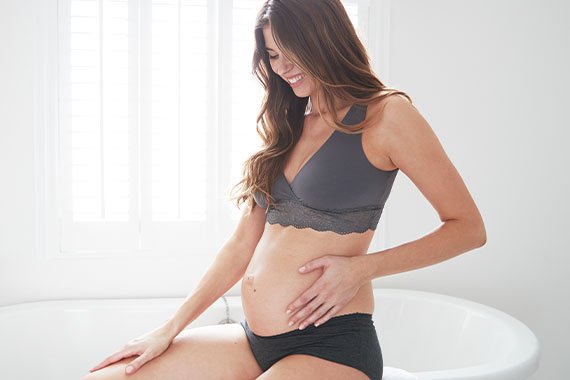 There are plenty of scrubs and brushes these days that call themselves 'gentle' but can feel like barbed wire against your delicate skin. Your soft bump deserves better than that! So what are konjac sponges and what do they do differently? Well, this cleaning tool was originally invented by Japanese farmers to wash their babies' skin because the sponge itself is so subtle and natural. So, you can really rest assured that it will exfoliate your skin ever-so-gently, no matter how sensitive you may feel.