Welcome to mamahood, mama! With your little one now in the world, it's time to put all of your preparation into action. The crib has been assembled, the cupboards stocked with nappies, and the books have been read. However, now that your mini is at home with you, you might find the simpler tasks are the ones leaving you stumped! You may not have considered how to wash your baby's hair, for example. We know you want to be careful with your bundle of joy. With their delicate skin and soft strands, it makes sense to be extra cautious when it comes to grooming and hygiene. But it needs to be done, mama! So here's all you need to know on how to wash your baby's hair.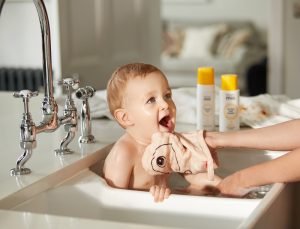 When to wash a newborn's hair
Firstly, when exactly do you start to wash your newborn's hair? If your little one has a few locks already, feel free to start straight away, mama! Just stick to dabbing their strands with warm water and cotton wool for the first three months. After that period of time is up, you can introduce lathering a gentle shampoo into your baby's hair, such as the Mini Mio Oh So Clean Foaming Wash.