How's it going, Mama? There's no denying that final str-e-tch can be tough, especially if it falls during the warmest time of the year. If your last weeks carrying baby manage to dodge the summer-time, count yourself lucky, being heavily pregnant in summer is a task on it's own! The extra weight, swelling and sweating are enough without a blazing sun being added to the mix.
However, if you do find that your final trimester falls during this time of year, fear not! We've got some tips for you to beat that heat, Mama!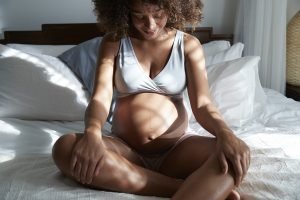 Stay hydrated whilst pregnant in summer
With morning sickness, regular bathroom-trips, and pregnancy sweat, you may find yourself thirstier than usual. This is why it's so important to remember to stay hydrated throughout your journey carrying baby, especially during the summer.
The rule of thumb is to drink one eight-ounce glass of water for each hour you are outdoors in the hot weather. But don't over-do it, Mama! Too much water will dilute your electrolytes, which we don't want. Mix it up with some coconut water, milk, smoothies or sports drinks. These will help to replace the electrolytes that you're sweating out of your body.
If you start to get bored of all the liquids, snack on ice lollies or watermelon!
Soothe pregnant swollen ankles and feet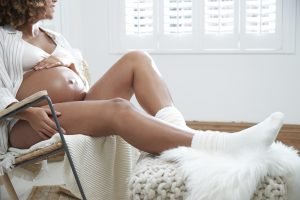 The next thing we need to consider being pregnant in summer is, of course, the swelling. Swollen ankles and feet when pregnant are a given, and we hate to be the bearer of bad news, but the heat of the sun may worsen this! Luckily, with summer comes flip-flops and sandals, so you can let your feet breathe.
Other things you can do to soothe the swollen ankles and feet in summer include:
Lie down and rest for half an hour to an hour during the day.
Keep the legs elevated during the night by placing a rolled-up towel at the foot of the bed.
Try some regular, low-impact exercise like yoga or walking two to three times a week in the morning or evening.
Massage some Mama Mio Lucky Legs Cooling Gel onto the ankles and feet. This will help to calm and relieve the puffiness in these areas.