We interviewed Becca Maberly, the genius behind A Mother Place Online Anti-Natal Classes to ask her everything you need to know about her new book 'Nobody Tells You…'
Keep scrolling to find out Becca's inspiration behind creating this open and honest book, her top pieces of expert advice for expecting Mamas and why it is one of the best pregnancy books to read throughout your pregnancy and beyond.  Are you ready to feel inspired, Mama?…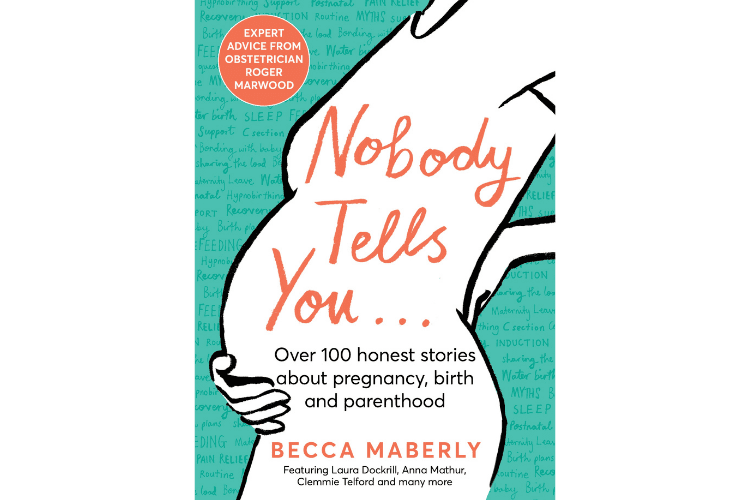 1. Becca, firstly congratulations on the publication of 'Nobody Tells You…'! In a nutshell, what is the book about?  
Thank you! It's a book that lets you in on all the things that Nobody Tells You about pregnancy, birth and parenthood!   
With over 100 contributors (including names you will recognise such as Megan Rose Lane, Clemmie Telford and Anna Mathur) we explore absolutely everything you can think of from trying to conceive right through to going back to work after having a baby. Each contributor shares their honest and personal story and then we provide expert advice on each subject and offer further sources of support for anyone going through the same thing. 
From piles to postnatal depression, cluster-feeding to co-sleeping, we've got it covered.  The book aims to help end the stigma around postnatal depression, remove the judgement around breast or bottle feeding choices, and lift the lid on unexpected bodily functions.  It shows you that pregnancy, birth and parenthood are never just 'one-size fits all' and will help anyone embarking on this journey to feel more informed and better prepared for bringing new life into the world.  
2. Who or what was the main inspiration for creating the book? 
I wrote it for myself really! It's the book that I felt I so badly needed when I first became a mother! I felt so alone and confused and angry because I realised that there was literally so much stuff that NOBODY had told me!
So many things had been shrouded in secrecy until it was too late! I had wanted to be prepared for what was ahead but I hadn't been able to do this as people had just not been honest with me about it! The classes had not been honest, the books I had read had not told the whole story and my friends and family hadn't divulged the gory details, so I thought…I WILL! 
3. How do you want your readers to feel after finishing the book? 
I just know that they will feel heard. They will feel less alone. They will feel supported and lifted up simply by seeing that they are not the only ones going through tough times. They will cry but they will also smile, laugh a lot and they will finish the book feeling positive, stronger and better equipped for what is ahead! 
4. What was your favourite part about creating the book? 
I just LOVED receiving the stories from our contributors.  Every one of them was chosen so carefully because of the stories they had to tell.  Every time I opened an email from a contributor with a new story attached my heart would beat so fast as I was so excited and nervous to read it.
I would loved to have captured all the different emotions I went through when reading them, they are all so emotive. I laughed, gulped, smiled, gasped, clasped my hand to my chest, winced, shed a tear and sometimes sobbed openly as I read stories that resonated so strongly with me and sent me back to a time that I found very difficult.  
5. Why is it so important that we are all more open about our experiences with motherhood? 
If we are not honest then we are doing the mums coming behind us a disservice. 
Staring off this journey, or indeed any journey in life, with misinformation or expectations that are not inline with reality, is going to set you up for a fall and huge disappointment.  And at a time when we are our most vulnerable, we do not need this added pressure from feeling like we have failed before we have even started.  
So many mums are thrown into the deep end with such unrealistic expectations. Expectations that they have formed through the filtered images they see online, the outdated classes they attend or the rose tinted (or maybe rose' tinted) advice of the crew who have been there and got the T-shirt. You know those types? They are the same ones with the  'enjoy every moment,'  'they won't be little for long' and 'it goes so fast' sound bites….they are the same ones who perpetuate this secret squirrel approach to parenting! 
By being honest and telling new mums how it really is, we can give them the information they need to prepare and even more importantly to know that however they feel, they are not failing or doing it wrong!  
6. Your father is an incredibly experienced consultant Obstetrician and Gynaecologist. Did you learn a lot from him growing up and how has he inspired you during your career so far?  
We have always been a very open and honest family and right from a young age I understood that giving birth was not all rainbows and butterflies, and that in fact there were times when things didn't go according to plan. I think this kind of upbringing made me very open minded when it came to giving birth. I understood that we do not always get to choose how we give birth and that sometimes luck/fluke or mother nature's whim might change the best laid plans and you just have to go with the flow. 
My father has always inspired me to be honest and realistic and also to always fact check. The information we share is always evidence-based and balanced and we pride ourselves on never scaremongering or sugar coating. Just honest advice that you know you can trust. 
7. You are also the mastermind behind 'A Mother Place Online Antenatal Classes'. Why are antenatal classes so beneficial for Mamas-to-be?  
I can't imagine giving birth and starting parenthood without doing an antenatal class. I feel like it would be similar to running a marathon with no training or setting off to climb Everest with no guide. Giving birth and becoming a parent is a HUGE life event and you really do need some advice on what to expect, the good bits and the bad bits too! 
You need to understand how your body is designed to give birth and what happens and what your choices are if things do not go according to plan.  At the moment 1 in 3 women are giving birth by Caesarean Section…wouldn't you want to know all about C sections just in case you are one of the 3? Our Online Antenatal Classes tell you everything you need to know with no scaremongering and no sugar coating!  
I also think it's really important to remember not to fixate too much on the birth. In the grand scheme of things it's like the first mile of the marathon or the first day of your Everest climb…everyone seems to forget about the postnatal period or the 'fourth trimester' but it is just as important and for some women it is even harder than the pregnancy and birth. Our Online Postnatal Classes will give you all the support that you need for the first few weeks and months with your new baby! 
8. What are your top 3 pieces of pregnancy advice for our expecting Mamas?
Forming realistic expectations about what is ahead is more important than obsessing over what kind of buggy to get. Try and have honest chats with friends about their experiences. Make sure the book you read and the classes you attend are up-to-date and evidence-based. 

 

Keep an open mind. There are so many things beyond your control related to your pregnancy, your birth, your postnatal period, with your baby and your partner that you just need to try and go with the flow.  

 

Don't forget to look after yourself. When you become a new mum, do not forget the old you. You may lose sight of your former-self whilst you adapt to your new role, but that is normal. It won't always be that way. When you find a new rhythm and things start to fall into place, there will be time for you again! I promise!

 
Products Our Mamas Are Loving