Your 9 month str-e-tch is over Mama and your little one (or ones!) are finally here! But, did you know you're now entering the little known next stage of your journey, the 4th Trimester? What is the 4th Trimester, we hear you cry! We caught up with midwife and Mum of 2 Bridie from @bumptobeyondyour_birth  to chat about all things Trimester 4.
Keep reading to find out everything you can expect in the 4th Trimester, common challenges when breastfeeding and how your skin can change in this time. You got this, Mama!
What Is The 4th Trimester?
The 4th Trimester marks the period from the moment your baby is born until they are 3 -months old.
How Does My Baby Develop In The 4th Trimester?
The 4th Trimester explains many changes your newborn goes through to adapt and develop to the outside world. It's described as a trimester because, like the three trimesters of pregnancy, your newborn continues to go through significant development.
I find understanding the 4th Trimester being about baby learning so much and having to adapt to the outside world explains the typical behaviours of your newborn and, therefore, why they need holding so much, remain close to you and feed frequently.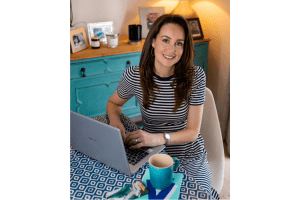 What Changes To My Body Can I Expect During The 4th Trimester?
Many changes happen to your body during this 4th Trimester, starting with the recovery process from giving birth, for some this can be a quicker process compared to those who may have had a more complicated delivery. Your body is physically returning to pre-pregnancy, so organs are shifting back to their usual place, and hormones are also fluctuating, which can explain why you are left feeling emotional at points.
You're also going through adapting to life with a newborn, which includes the physical and emotional demands that you have caring for a newborn, including the establishment of breastfeeding.
With all these changes taking place, it's essential to allow your body time to recover and appreciate the differences your body of still going through, so take things slow and don't over-do it!
What Are The Common Challenges I Could Expect If I Start Breastfeeding?
Breastfeeding is something you learn to do, and it's essential to understand it isn't always an easy process for every woman and can take time and perseverance. My advice to the women I care for is the more time you put in at the beginning, the more successful you are overall, and in the long run, it does become more manageable and almost second nature. Initially, it's all about getting the correct positioning and attachment because if this isn't correct, it can make you feel uncomfortable and sore. Ask for lots of help initially to ensure this is all correct, and don't forget you won't get it perfect every time. I advise using amble amounts of nipple cream during the first few weeks to help with any initial soreness and discomfort.